…Lyssna på Rage Against the Machine! Regniga måndag-morgnar i oktober är inte det bästa jag vet, men de har sin charm. Och det är det där med att små saker, kan göra allt så bra. Ja, och så dåligt..      
…Det kan t.ex vara att ha klivit upp alldeles för tidigt och stressat till skolan, glömt det man skulle ha med sig, för att man tänkt så mycket på att hitta sex kronor till en kopp kaffe – som man inte ens får! Morgon-seminariet som jag var på, fortgick utan rast och därför också utan kaffe. När det väl var slut bestämde jag mig för att cykla direkt hem – för vi har ju kaffe hemma (tro inte att jag är beroende, men idag behövde jag verkligen kaffe, precis som man ibland behöver lyssna på Rage!). När jag kommer innanför dörren hinner jag knappt ta av mig skorna. Allt jag tänker är: "om jag får en kopp kaffe så blir det bra". Till min förskräckelse upptäcker jag att kaffefiltren är slut..
Ica räddar mig och snart får jag min kopp java – min kopp omstart. Och sen blev det en bra dag. Jag såg alla de små sakerna. Alla bra saker. För när allt kommer omkring, så handlar det om att se och fånga – de där ögonblicken – som kan göra en hel dag, till en bra dag.
Igår hade vi lifelivers-möte. Det är skönhetsförändringar, nya meny- och reportageidéer på gång! André the producer har redan börjat. Så håll ögonen öppna!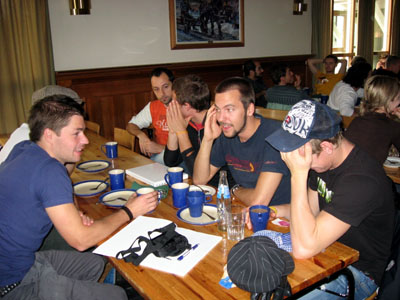 lifelivers brainstormar på skogis