16 Apr 2009, 10:40am
Guests: English
by
admin
2 comments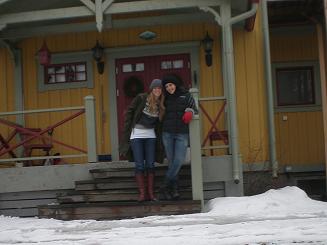 how to explain it… its just a person that thinks like you, and you like to hang out with!
 
Pili and Me meet when we were 4 years old in the kindergarden, and since then we never argue in any big things.
Just one year ago we had this conversation
 "I'm going to move in with Johan, IN SWEDEN"
"Sweden? are you crazy? I think is great and I promise i will visit you".
 
That's friendship for me, support each other not matter what and keep promises! Now my best friends is here with me… in Umeå! yes, all the way from Argentina! after 30 hours, 3 flights she is finally here to spend 10 days! Do we have a very similar life still? a similar way to think? No we don't! but we both know that we have someone else in this big world that we can always count on.
11 Apr 2009, 4:26pm
André: English Mountainbike Travel
by
André
6 comments
Today we had to go out early to  beat the warmth in the middle of the day. At eight a.m. we were at a bike shop to rent me a bike for the day. We crammed two bikes in the small Hyunday Getz, and went out to meet up with some of Nir's friends. We got to Benshemen, a patch of forest that is very popular among bikeriders from Tel Aviv. The park is full of nice single tracks with varying technical difficulty.
We had a two hour ride and at the end I was pretty hot. Lucky for me it's still spring, the summer is much worse.
On monday we're heading for the desert, I'm looking forward to that!
/André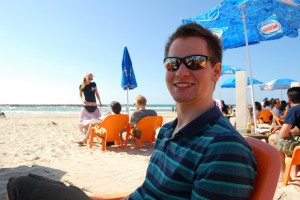 I arrived last night at 03.45 am, slept almost all day yesterday. Then we took a walk down to the beach. Had a milkshake in the sun. Went to a restaurant, took a real big hamburger and some beers. Today was barbecue at some of Anja and Nir's friends. Tomorrow we're going bikeing. To sum it up, so far so good.
27 Feb 2009, 10:57pm
Nicklas: English
by
Nicklas
2 comments
For some of us life is about adventures, about stretching your own limits, about going to countries you've been dreaming of as long as you can remember, and for some of us, life is about just enjoying the small things.
For the moment I belong to the last category, just enjoying the small things. The feeling of sliding down into a hot bath after a hard weeks work, in a bathroom lit only by candlelight, sipping on something cold and good brings me the kind of satisfaction I am sure that some people feel when they end a marathon run in record time.
I end with a quote about lifelife:
"Lifelife is about joy. Real joy. The joy you feel when you are doing something that you and just you want to do. Right here and right now."
Take care and live well / Nicklas
27 Feb 2009, 3:38pm
Nicklas: English
by
Nicklas
2 comments
Words are unnecessary, just watch this video.