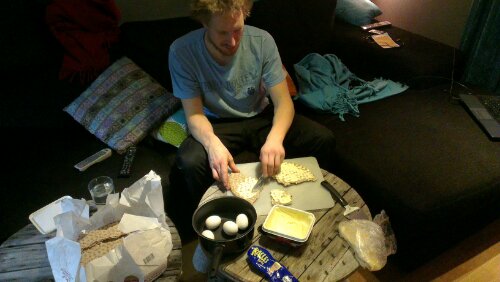 Det som händer när en ständigt lika hungrig Mikael Karlsson kommer hem efter en sen träning. Instiftat av the one and only Jonas Johansson!
Steg-för-steg instruktioner till en lyckad Mack-Attack om du läser vidare.

1. Rota fram ett rejält paket hårdbröd.
2. Koka massor av ägg.
3. Ta med dig allt till soffan.
4. Ät. Rejält. Glöm inte att smula överallt!
6. Somna gärna i soffan efteråt. Katten Chilton hjälper till och somnar i/på brödpaketet.
En varning utfärdas. Ett vanligt rookie misstag är att börja trycka ostmackor medan äggen kokar. Det slutar aldrig väl!