Yes! Det tog tid, men nu är den äntligen här! lifelivers.com! Det är bara en början och mer kommer att hända. Och det kommer säkert aldrig att bli riktigt klart, men vi ska göra vårt bästa och vi ska ha kul! Det är det som är hela poängen. Och vi ska visa hur kul vi har det, så att ni kan bli avundsjuka och sen ha lika kul med oss och åt oss. Ja, eller på egen hand!
Som utnämnd låtsas-projektledare så vill jag ta tillfället i akt att smickra André the producer som ägnat ett gäng hårda timmar åt att bygga upp det ni nu ser. You are the producer. En livetsliv-guldbagge går även till Johan Jacobsson för sin roll som jourhavande handledare. Tack grabbar!
Så det som återstår nu är bara en himla massa galna bilder och sjuka ord! Ett jädrans röj och det härligaste livet! Livetslivlivet!
Här på sidan så kommer det att finnas rese- och äventyrsberättelser, personliga bloggar och snusksmaskiga detaljer!
Hope you like it. Cause we are the renegades of funk! (idag är det förresten RAGE-måndag med stora versaler, vad det innebär får mike the strike förtälja)
Händerna i luften! Nu kör vi! Livetsliv!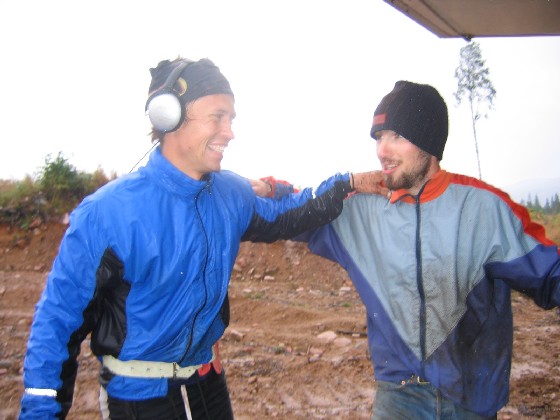 Sista ögonblicket på planteringssäsongen 2005. Det mina vänner, är Äkta glädje!